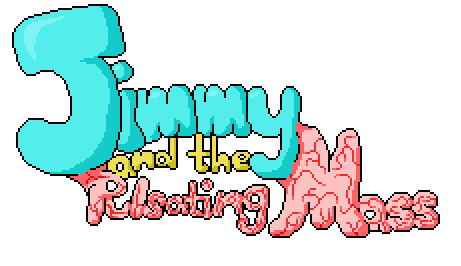 Jimmy and the Pulsating Mass
New Update: Better Framerate, Difficulty Selector, Mac Version
---
I've just added a pretty beefy update that's a mix of several things I've been working on. The biggest change is that the mkxp version is now on itch.io. The mkxp version is basically going to smooth out a lot of issues that some people have with the framerate, mainly, but it should also prevent the large sprite fix crash. A few things you need to know:

-You still need to be running game.exe, but you'll notice that the executable with the default icon is "Jimmy.exe." This won't run, so, again, run game.exe.
-F4 and F5 won't change the screen size. Now you can hit alt+enter to toggle fullscreen, and you can manually resize the window if you want.
-If you have an old save, it should still be there, but the characters' face graphics in the save menu will likely be missing. These might update when you change characters, but they'll definitely appear when you start a new game.
-If you get a blackscreen when running the new version, make sure that your video card drivers are up to date--you might need to go to your manufacturer's website rather than just using the device manager (especially if you have a laptop).
The next big thing is that I've included a Mac version. Let me know if you're experiencing any issues with it.

The final major change: I've added a difficulty selector. This is accessible at any time in the menu. You can toggle between normal mode and easy mode. Easy mode doubles your money and experience drops, reduces monster health and attack stats, lowers the encounter rate, and lowers the amount of money you lose when you die.
Finally, here are a few bug fixes:
-In the Dark Dungeon, if you trade half your health, it will now persist between battles.
-Pulverizing Light description is now accurate.
-Grimclaw's final attack works as intended again.
Files
Jimmy and the Pulsating Mass Mac.zip
258 MB
Sep 04, 2018
Jimmy and the Pulsating Mass.zip
244 MB
Sep 04, 2018
Get Jimmy and the Pulsating Mass