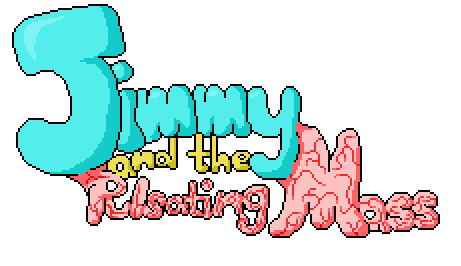 Jimmy and the Pulsating Mass
A downloadable game for Windows and macOS
Jimmy and the Pulsating Mass is a Japanese-style RPG made by a guy from Texas. It was very much influenced by SNES-era jRPGs, particularly Earthbound, Final Fantasy 5, and the Breath of Fire series, among others. It was also heavily influenced by Yume Nikki.

The game takes place in the dream of an eight-year-old boy. When an alien entity appears and threatens his family and the stability of the dream world itself, Jimmy sets out on an adventure to save his family and eradicate the threat of the Pulsating Mass. Along the way, Jimmy will have to work with his family, confront his own shortcomings, and brave the creeping nightmares of his subconscious.
Features:
-Full-length Japanese-style RPG.
-Classic turn-based combat with some modern sensibilities.
-A big emphasis on exploration.
-As an empathetic kid, Jimmy gains the ability to imagine himself as several of the monsters he meets, allowing him to interact with the world in new ways.
-These different transformations can also be leveled up, granting Jimmy higher stats and new abilities.
-A story for adults delivered from the perspective of a child.
-Jokes.
-Unspeakable horrors.
Purchase
In order to download this game you must purchase it at or above the minimum price of $15 USD. You will get access to the following files:
Jimmy and the Pulsating Mass Legacy Version.zip
243 MB
Jimmy and the Pulsating Mass Mac.zip
258 MB
Jimmy and the Pulsating Mass.zip
244 MB
Comments
Log in with itch.io to leave a comment.
There is an older demo here: https://rpgmaker.net/g/jimmy/
I should probably update that at some point, but the game functions basically the same (it's just a little harder and a little buggier in the demo).
Thanks! I appreciate you taking the time to respond and hear bugs are a great source of protein anyway. :)

I'm excited to play this! Would you be willing to provide a linux version, too?
That's something that might be on the horizon. There are a few outstanding issues with the mkxp version, which is what I would use to run it on Linux, so I'd like to smooth those out first.

Great to see this here! Downloading the game right now.
It might take me some time to get on a windows machine to properle play it, tho.
Still, I'm super excited.
This looks so cool, very excited to play!

Loving the game so far. I'm about 2 hours in. I love how the melodies are all over the place, and the whole imagination/empathy shtick is a good one. Definitely belongs in the pantheon of quality Earthbound-inspired RPGs from what I've played.